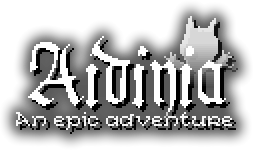 Aidinia - An Epic Adventure!
A downloadable game for Android
📜 Sinopsis
"Prepare to enjoy an epic old school adventure!
The once peaceful kingdom of Irisa has fallen into chaos, for the evil emperor Hiryuu has stolen the magical pendant that since ancient times protected the land!
The king, desperate, has called upon his last hope... YOU!
Explore a vast continent, find your way out of dark dungeons, battle vicious monsters, find treasures and save the world in this pixel filled 8-bit RPG!
But be aware, young adventurer, that your quest won't be easy...!"
---
📖 About
Aidinia: An Epic Adventure is a retro-themed RPG for Android devices. It's inspired by titles like Dragon Quest or the classic Final Fantasy titles and it's the first game I ever developed for Android. I worked on this while I was still in high school and, while many people have liked the overall result (and I love it for what it is), it's a little rough around the edges sometimes. It's even full of typos. I'm not super proud of that, but it is what it is: a product of its time and a learning project. That shouldn't stop you from playing it!
Since this game was developed for a very old minimum Android version, Google is about (or may already have, depending on when you are reading this) to remove it from the Play Store so I'm uploading it here for preservation purposes.
---
💽 Soundtrack
The soundtrack for this game was composed completely by me and is available for download below.
---
🎖️ Reviews
"I love this style gameplay. I wish I could effortlessly produce a game like this. I wish more games came out like yours. I wish your fight scenes were a bit darker ." - Brandon Robert Weaver (⭐⭐⭐⭐⭐)
"Funny how some rpg's are hidden here in goog!e play Great RPG I alway's love running into rpg's that are similar to dragon quest games and other rpg's similar to the 80's rpg's in any form. Aside that Google needs a better search category to actually finding these games, as like typing RPG all these should come up but they don't." - Jon Walsh (⭐⭐⭐⭐⭐)
"It's an absolute gem in a sea of garbage. It's pretty obviously a Dragon Warrior "clone," but that's okay because all of the aspects are done well. And there's certainly no bs. You pay for a game and you get a complete game. There are no ads. No asking you to rate it. No iaps. All games should be like Aidinia. I'm truly enjoying it." - Erin D. (⭐⭐⭐⭐⭐)
"Classic without fluff This game is fun. The path isn't obvious, the grinding is kept to a minimum and there isn't any useless modern 'polish' to it, it just feels like playing an average gameboy RPG, which isn't bad for a buck." - Jean-Sebastien Payette (⭐⭐⭐⭐)
"Excellent throw back to the dragon warrior games. Fun and relatively quick." - Nicholas Peterson (⭐⭐⭐⭐⭐)
"One of the best classic RPGs I've found. Seems to lag during movement. Experience and money gain seems to be a huge grind. Overall, great concept and I hope there will be more than one if not already." - Shaun Pueschel (⭐⭐⭐⭐⭐)
"Very simple, classic 8-bit style rpg. I enjoyed playing it. Played casually and beat it in less than 4 hours total game time. Would have given 5 stars if the game had a few more features... like a world map, and enemies being a little more difficult by using magic and/or special skills against the player. Thank you to the devs for making a chill, fun lil game. :-)" - Marc Sanchez (⭐⭐⭐⭐)
(Reviews taken from Google Play)
---
🕹️ Sequel
A spiritual sequel of sorts for Aidinia called Fateful Lore has been released in 2020. Be sure to check it!
Download
Click download now to get access to the following files:
Aidinia - An Epic Adventure.apk
21 MB
Aidinia - Soundtrack.zip
31 MB
Also available on