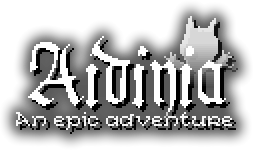 Aidinia - An Epic Adventure!
A little more love for Aidinia
---
I released Aidinia: An Epic Adventure over seven years ago. That's a long time and, since it was the first full game I ever developed and my first Android project, the result is sometimes a little rough around the edges. That's why I have been not payed enough attention to it for these last years. Now I see that was a mistake. This game is part of me and I worked really hard to make it. It's a part of my story and today I'm giving it the love it deserves.
So, updates. First, the game is now available here. You can download it from itch, you don't have to go to Google Play anymore. Second, I have compiled, curated and uploaded the game soundtrack. With a cover and everything. It's also available for download here as well, for free. Last, but not least, I have updated all the page of the game to include more information about it, what people said and its overall history.
I'm sorry, Aidinia, you deserved best. I hope this makes up a little for so many years of neglectment.
- Lartu
Files
Aidinia - Soundtrack.zip
31 MB
Oct 04, 2020
Get Aidinia - An Epic Adventure!