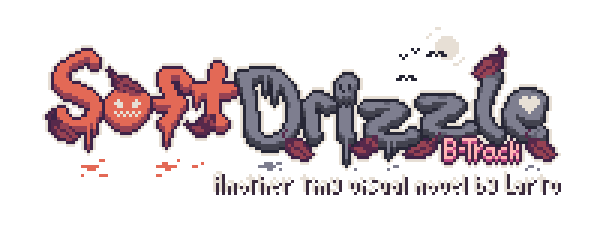 Soft Drizzle: B-Track
A downloadable game for Windows and macOS
About
Soft Drizzle: B-Track is a short visual novel about friendship and Halloween Festivals. It even includes an escape room!
Made in a month for the 🍂 Great Harvest Game Jam 🍂 and the Spooktober Visual Novel Jam, although I missed the deadline for the first one. Won the Best Unity Submission in the latter one! Yaaay!
This game is a sequel to my previous tiny visual novel, Soft Drizzle. You can play it without having played the first one, but I recommend playing it first!
I had a lot of fun developing this game, I hope you enjoy it!

Controls
Click to advance the text and examine objects.
Click to select an option when prompted.
You can press Alt + Enter on Windows to switch the game to fullscreen, if you want, but it has been designed to run in a windowed and I don't really like when it goes that big. But to each their own!
If you get stuck in the escape room you can download the file Soft Drizzle B Track - Clues.zip that contains a number of clues (including the solution) for all the puzzles.
If you spot a typo or a bug please tell me!
Credits
I composed the music and drew the character sprites and UI, etc. The subway sound effects was created by TheMSsoundeffects. Other sound effects were taken from the SoundJay website.
Prequel
Soft Drizzle: B-Track is a sequel to my previous visual novel, Soft Drizzle. If you enjoyed this game, give it a go!
| | |
| --- | --- |
| Status | Released |
| Platforms | Windows, macOS |
| Release date | Oct 02, 2020 |
| Rating | |
| Author | Lartu |
| Genre | Visual Novel |
| Made with | FL Studio, Unity |
| Tags | artgame, Atmospheric, Cute, Escape Game, Female Protagonist, Halloween, Pixel Art, Relaxing, Short, wholesome |
| Average session | About a half-hour |
| Languages | English |
| Inputs | Mouse |
| Accessibility | One button |
Download
Click download now to get access to the following files:
Soft Drizzle: B-Track for Windows
42 MB
Soft Drizzle: B-Track for MacOS
45 MB
Soft Drizzle: B-Track - Escape Room Clues!
1 kB
Soft Drizzle: B-Track Original Soundtrack
22 MB
Comments
Log in with itch.io to leave a comment.
Great game i really enjoyed the escape room mini game keep up the great work
Fuyuko is adorable in that costume. ;-; I found myself fast-forwarding the dialog quite a bit as it was a little repetitive, but the art style and general aesthetic is great. A nice, chill game. <3
I really loved this visual novel! The perfect sequel to the first game. The looking around mode was a really awesome addition! The escape room was my absolute favorite. Things like that really spice up visual novels in my opinion. Great job, I can't wait to see your future projects!
So I'm checking the Spooktober 2020 Jam submissions and find yours. At first I thought it was a horror game, but turns out it's a wholesome game.
The Characters sprites and persona are really adorable, really love the chemistry between the three of them. I also love the pixel looks, it makes it special. The sound composition are also excellent. Can't wait to enter the escape room.
Hey, thank you for the video! I will watch it as soon as possible, I'm glad you are enjoying the game so far! 😊
Finally finishing it, the end kind of suspicious, luckily it was just a prank. Loving this game. For the Escape Room I think there should be more clue to be added because I was kind of confused on how to solve it and have to check the clue document a little bit. Would love to see these trio again one day!
Thank you for the wonderful video! I'm supper happy that you enjoyed the game, thank you for your comment 😊
A very good-looking visual novel, such a creative art style! The overall narrative is quite uneventful for my taste, but this might be due to the fact that I don't play visual novels very much. The writing needs a bit more attention since there's just too much repetition and clunky dialogue, but since it's a game jam game it's understandable. The escape room is great, and the adventure point and click mechanic overall is the best part. Great music and I hope you put out more stuff!
Thank you for the video! I'm watching it right now. Yes, the narrative is uneventful, but that's by design. It's a day out with friends, and nothing more. I'm glad you liked it! Thanks for the review!
I absolutely adored the video! It presents absolutely fair points about all weak and strong aspects of the game, it's a joy to watch. Thank you for making this, I loved it!
Both this & the first game were lovely, cozy experiences! They each felt like a real, nostalgic fun day with your best friends. The writing & art were very charming, and the game length was just right for capturing that feeling of an awesome day. I hope we get to spend more time with Himari and Fuyuko in even more games in the future c:

Thank you very much! I'm super glad you liked it. I don't really know if we'll see more of Fuyuko and Himari in the future, but I sure hope so! Thank you for your comment c:
AAAAAAAAAA THE PERFECT SEQUEL <33